Art Deco Compendium USB with FREE Gift
Art Deco Compendium USB with FREE Gift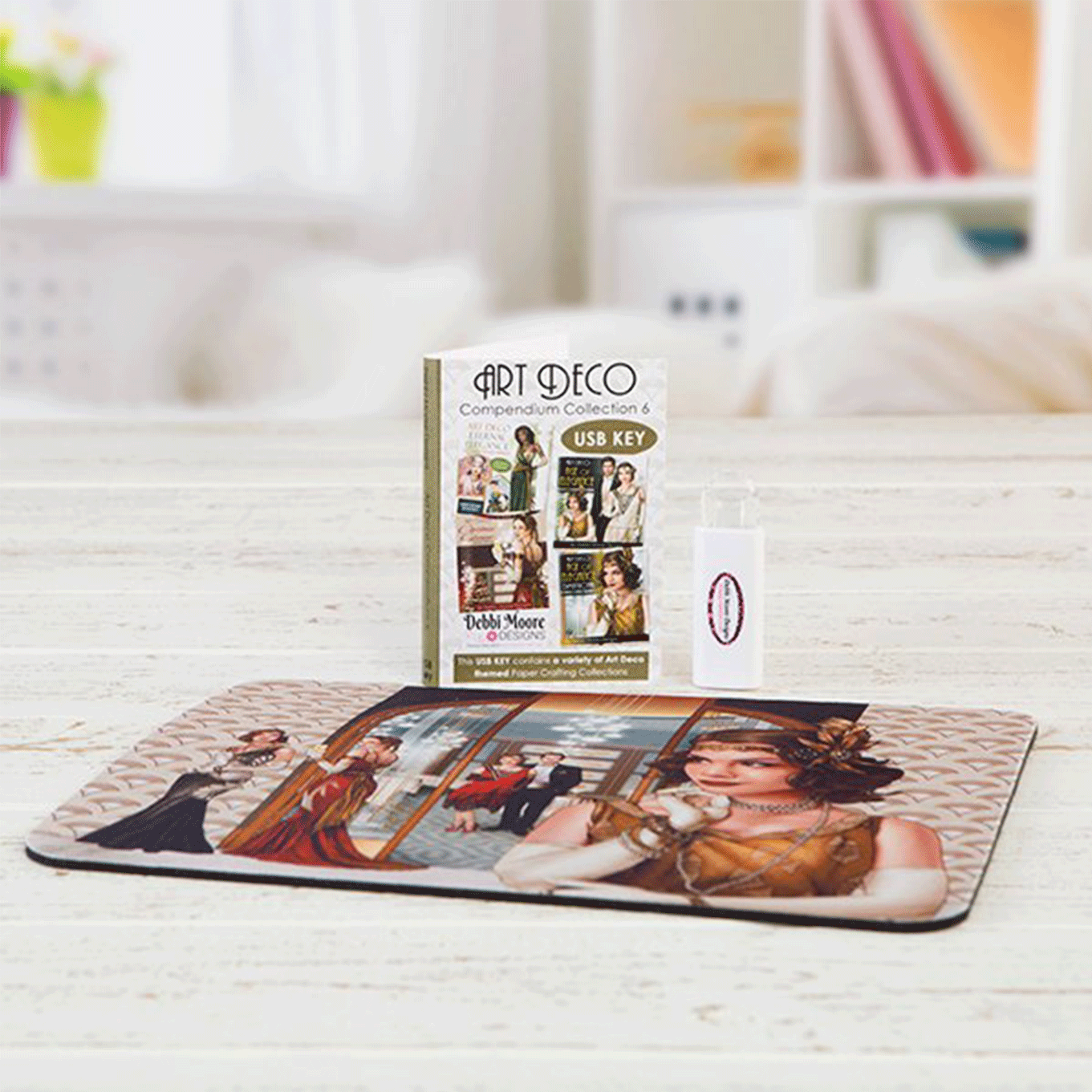 Art Deco Collections
Great fun for greetings cards and gives a new dimension to your crafting projects that can be enjoyed by beginners or advanced crafters.
The USB contains over 4378 printable elements. This USB collection covers the Art Deco ranges for 2019. This is a great addition for anyone who loves Art Deco.
Also included is a free mouse mat on an Art Deco theme.
The USBs are easy to use and carries Debbi Moore's easy to use digital program that is more than suitable for people who are introducing themselves to computer aided craft design for the first time.
Simply insert the USB into your computer and the welcome screen will pop up. You can then find the section you like, open in an adobe reader format and print to your heart's desire.
Contents:
Debbi Moore - Art Deco Compendium USB with FREE Gift

Art Deco Eternal Elegance Collection:

Design Sheets: 30 sheets ( 294 elements)
Character Sheets: 12 sheets (36 elements)
Scenes: 6 scenes (6 elements)
Papers: 54 papers (54 elements)
Toppers: 6 sheets (25 elements)
Decoupage: 24 sheets (72 elements)
Embellishments: 12 sheets (156 elements)
Sentiments: 12 sheets (336 elements)
Card Fronts: 8 sheets (64 elements)
Inserts: 18 Inserts (18 elements)
Envelopes: 18 envelopes (54 elements)
Pillow Boxes: 12 boxes (12 elements)
Mini pillow boxes: 12 boxes (24 elements)
Square boxes: 18 boxes (198 elements)

Art Deco Christmas Glamour Collection:

Design Sheets: 30 sheets ( 294 elements)
Character Sheets: 12 sheets (36 elements)
Scenes: 6 scenes (6 elements)
Papers: 54 papers (54 elements)
Toppers: 6 sheets (25 elements)
Decoupage: 24 sheets (72 elements)
Embellishments: 12 sheets (156 elements)
Sentiments: 12 sheets (336 elements)
Card Fronts: 8 sheets (64 elements)
Inserts: 18 Inserts (18 elements)
Envelopes: 18 envelopes (54 elements)

Age of Elegance Collection:

Design Sheets: 30 sheets (330 elements)
Papers: 54 papers (54 elements)
Decoupage: 30 sheets (150 elements)
Characters: 8 sheets (30 elements)
Digi Stamps: 4 sheets (4 elements)
Scenes: 8 sheets (8 elements)
Toppers: 6 sheets (24 elements)
Sentiments: 13 sheets (311 elements)
Embellishments: 12 sheets (186 elements)
Card Fronts: 32 sheets (304 elements)
Envelopes: 44 envelopes (96 elements)
Inserts: 48 sheets (48 elements)

Age of Elegance Dimensional Collection:

Earring Cards: 15 sheets (90 elements)
Large Boxes: 60 sheets (30 boxes)
Mini Bags: 48 sheets (24 bags)
Mini Pillow Boxes: 20 sheets (20 boxes - 60 elements)
Small Boxes: 24 sheets (12 boxes - 168 elements)
Square Boxes: 32 sheets (16 boxes)
Notelets and Envelopes: 24 sheets (96 elements)
Tags: 4 sheets (42 elements)
Calendar: 14 sheets (14 elements)
Shaped card / side scenes : 20 sheets (78 elements)

TOTAL PRINTABLE ELEMENTS: 4378

Free Mouse Mat included with an Art Deco theme