Art Deco Dimensional Mini USB Key
Art Deco Dimensional Mini USB Key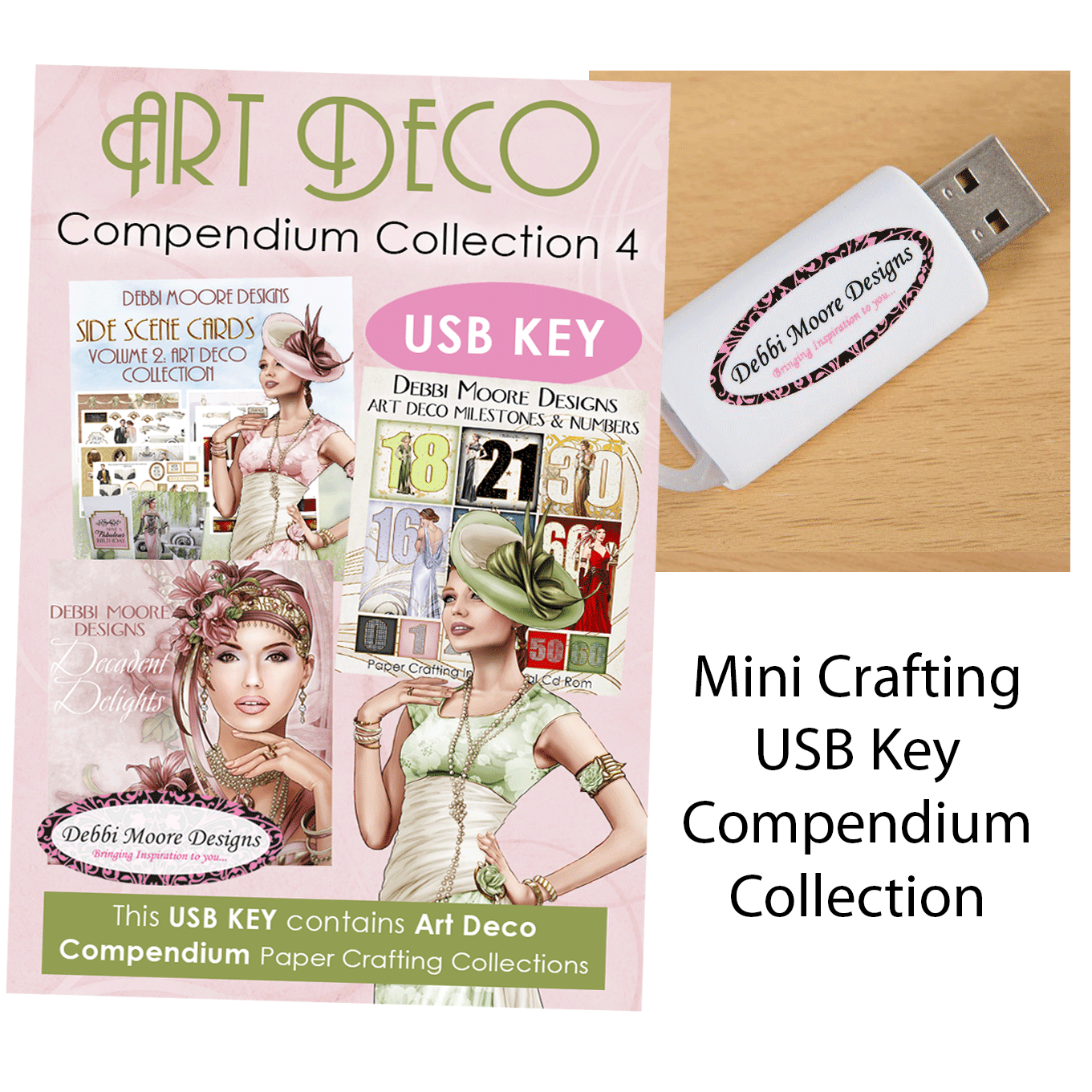 Art Deco Collections
This Debbi Moore Art Deco Dimensional Mini USB Key contains over 3100 covering a variety of designs, from papercrafting options, such as design sheets, toppers, decoupage, backing papers, to even a dimensional option that covers a variety of 3D cards such as side scenes and rocker!
To use the USB key, simply insert it into your computer and the welcome screen will pop up. You can then find the section you like, open in an adobe reader format and print to your heart's desire.
The easy to use program is more than suitable for people who are introducing themselves to computer aided craft design for the first time.
Contents:
Side Scene Dimensional Collection
Day Side Scenes: 60 sheets (262 elements)
Night Side Scenes: 60 sheets (462 elements)
Envelopes: 60 envelopes (240 elements)
Shaped Cards: 22 (146 elements)
Rocker Cards: 12 rockers (198 elements)
Total: makes 90 cards (1308 elements)
Milestone Collection
Rectangle Milestone Sheets: 210 (42 sheets)
Rectangle Inserts: 42 (42 sheets)
Rectangle Envelopes: 42 (126 sheets)
Square Milestones Sheets: 396 (44 sheets)
Square Inserts: 44 (44 sheets)
Square Envelopes: 44 (88 sheets)
Mini Numbers 0-9: 132 (21 sheets)
Mini Milestone Numbers: 168 (14 sheets)
Papers: 86 papers
Total: 1164 printable elements
Art Deco Decadent Delights Collection
Papers - 56 sheets
Characters- 16 sheets
Digi stamps - 4 sheets
Decoupage - 31 sheets
Earring Cards - 32 sheets
Sentiments/Gift Tags - 24 sheets
Candle Toppers- 8 sheets
Large Boxes- 16
Mini Bags – 16
Pillow Boxes – 16
Mini Pillow Boxes- 16
Ring Box – 32
Bracelet Box – 32
Square Boxes – 16
Projects 3
Contains over 650 elements
Extra Section
Includes 20 dimensional sheets, shaped cards, rocker cards, toppers – Over 250 printable elements
Minimum System Requirements for USB:
PC running Windows XP/Vista/Windows 7/8/10
Mac or Linux
Adobe Acrobat Reader 10
Availability:
Out Of Stock