Botanical Delights Mini USB Key
Botanical Delights Mini USB Key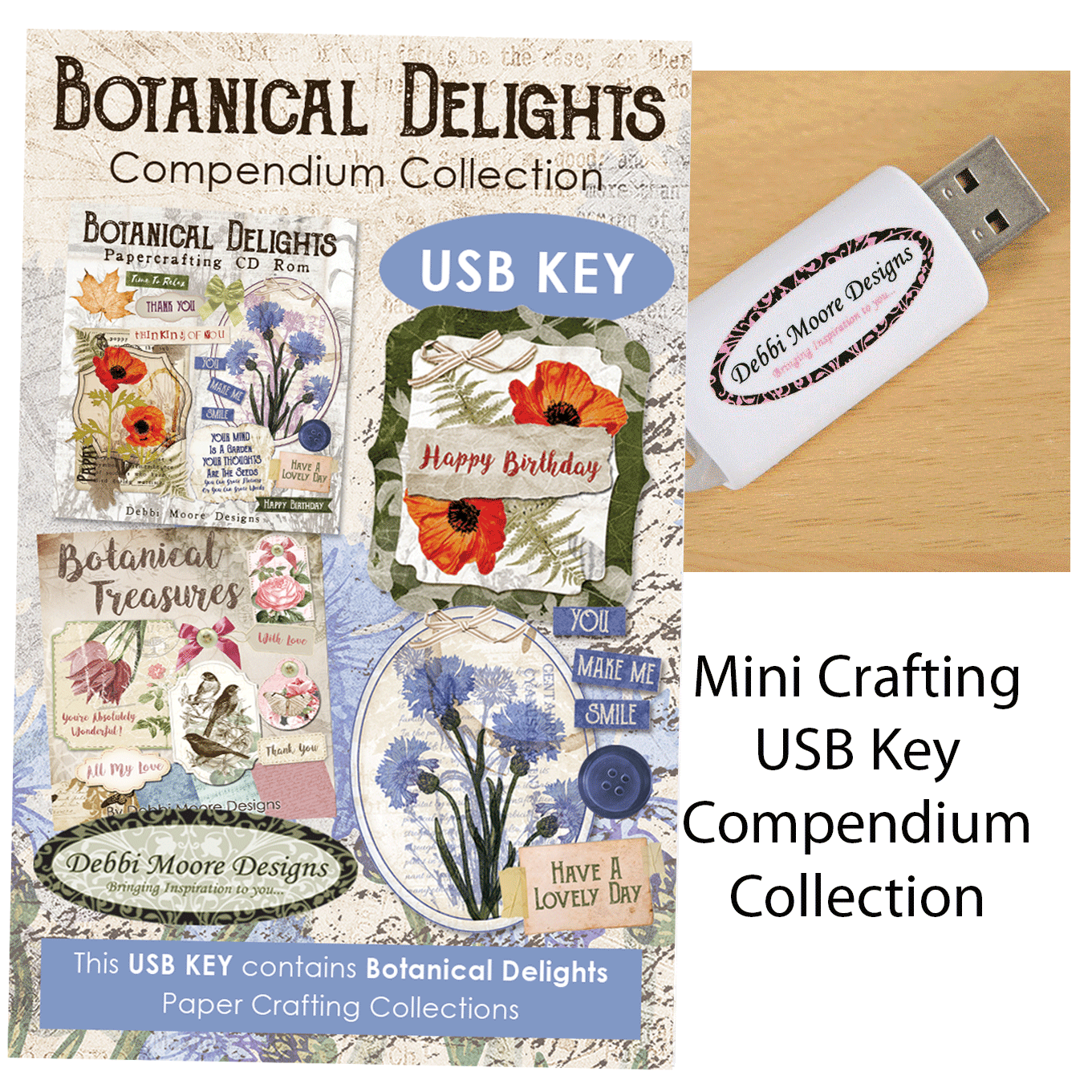 Imagine three fantastic Shabby Chic themed collections just on one handy USB! This Debbi Moore Shabby Chic Botanical Delights Mini USB Key features an assortment of design sheets, papers, inserts, embellishments and much more for you to print out time and time again!
The joys of having a selection of collections on one USB is that you have the freedom to browse through at your convenience and pick out your favourite designs and mix and match to provide wonderful creations.
With Botanical Delights, Botanical Treasures and even a bonus book folding collection, you're bound to have something for every project whenever you need.
Featuring an easy to use program, this USB is suitable for all crafters especially those who are new to computer aided craft items!
Contents:
Botanical Delights Collection
Papers: 40 Sheets 40 Elements
Bows: 6 sheet 24 Elements
Cutting Files: 18 sheets 114 Elements
Blank Toppers: 6 Sheets 24 Elements
Cup-up Flowers: 6 Sheets 84 Elements
Design Sheets: 30 Sheets 738 Elements
Tags: 12 Sheets 210 Elements
Sentiment Tabs: 6 sheets 384 Elements
Inserts: 18 Sheets 18 Elements
Envelopes: 36 Sheets 42 Elements
Verse Toppers:6 Sheets 24 Elements
Embellishments: 6 Sheets 210 Elements
Elements: 1912
Botanical Treasures Collection
Design sheets: 35 Sheets 644 elements
Papers: 42 Sheets (42)
Tags: 7 sheets 112 elements
Sentiments: 7 sheets 420 elements
Inserts: 42 sheets 42
Envelopes: 84 sheets 42 envelope elements + 28 extra on square (70)
Toppers: 14 sheets 84 elements
Embellishments: 7 sheets 273 elements
Bows: 7 sheets 28 elements
Cutups: 7 sheets 238 elements
Milestone number sheets: 7 sheets 154 elements
Small number sheets: 7 sheets 154 elements
Total Elements: 2261
Bonus Collection: Bookfolding with 8 patterns.
Minimum System Requirements for CD:
PC running Windows XP/Vista/Windows 7/8/10
Mac or Linux
Adobe Acrobat Reader 10
Availability:
Out Of Stock