Cards for all Occasions Compendium Collection 2 USB
Cards for all Occasions Compendium Collection 2 USB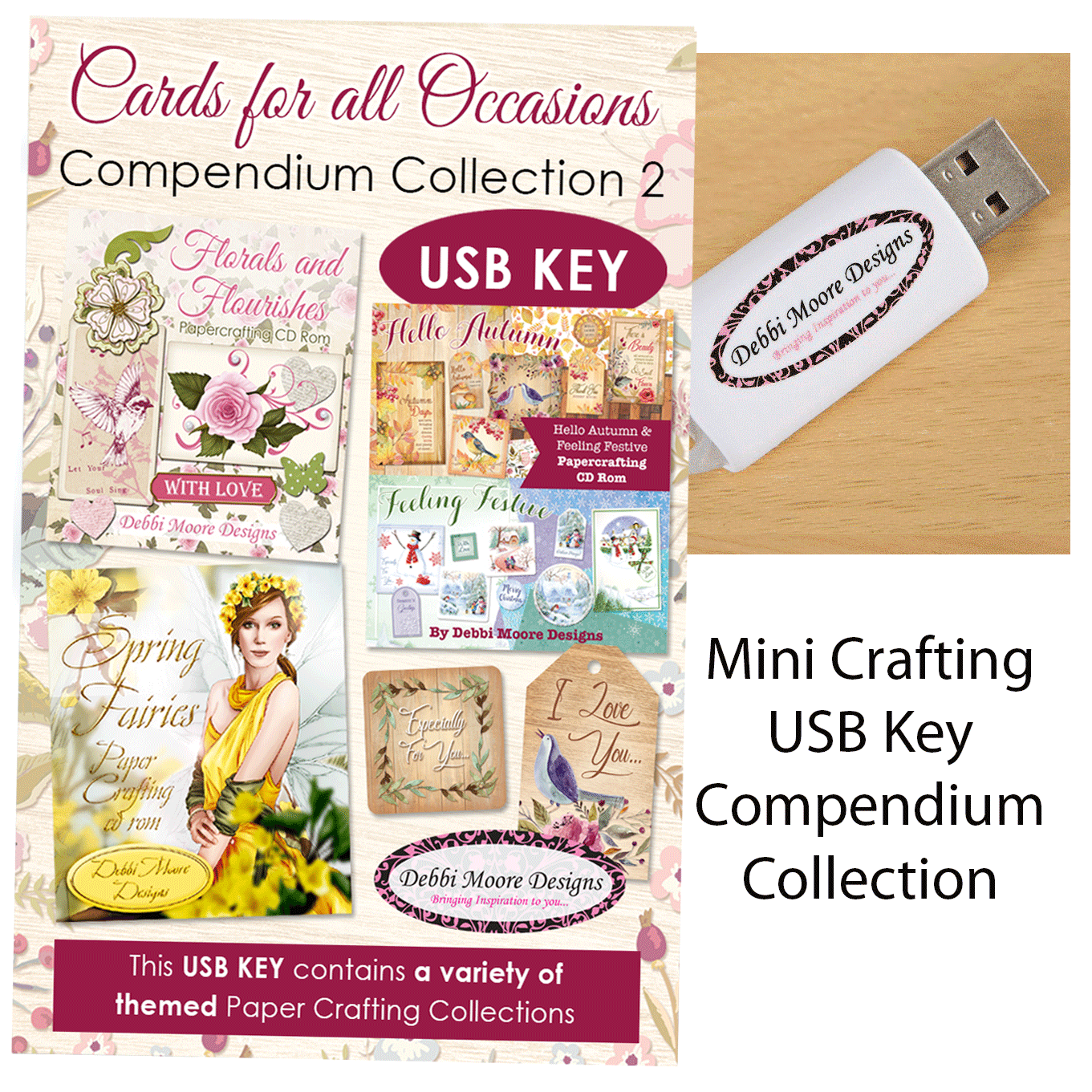 New to Debbi Moore's range of creative crafting products, this fantastic All Occasions USB Key is packed with a variety of printable elements from 3 different collections all on one handy digital stick, giving you access to fantastic elements to meet all your crafting needs.
This exciting and innovative product covers an assortment of sheets from decoupage design sheets, backing papers, quick cards, inserts, envelopes, one step cards, embellishments, boxes, bags, calendars and much, much more.
Collections featured on this USB includes Spring Fairies, Hello Autumn & Feeling Festive and Floral & Flourishes.
All designs are hand drawn for totally unique and stylish results. You can even mix and match themes to create an array of combinations.
Minimum System Requirements:
PC running Windows XP/Vista/Windows 7/8/10
Mac or Linux
Adobe Acrobat Reader 10
Contents:
1 x Debbi Moore All Occasions USB Key

Hello Autumn

Bows: 5 Sheets
Toppers: 8 Sheets
Sentiment Tabs:6 Sheets
Tags: 1 Sheet
Inserts: 15 Sheets
Envelopes: 36 Sheets
Card Fronts: 3 Sheets
Pillowboxes: 12 Sheets
Papers: 20 Sheets
TOTAL SHEETS: 106

Feeling Festive

Bows: 5 Sheets
Toppers: 8 Sheets
Sentiment Tabs: 6 Sheets
Tags: 1 Sheet
Inserts: 15 Sheets
Envelopes: 36 Sheets
Cardfronts: 3 Sheets
Pillowboxes: 12 Sheets
Papers: 20 Sheets
TOTAL SHEETS: 106

Spring Fairies

38 – design sheets
52 – backing papers
18 – decoupage sheets
18 – pyramid magic sheets
19 – character sheets
12 – tags and toppers sheets
11 – scene sheets
18 – inserts
18 – envelopes
18 – quick cards
6 – flower sheet
10 – projects
templates

Floral and Flourishes

36 Design Sheets
36 Backing Papers
20 Decoupage Sheets
20 Pyramid Magic Sheets
6 Vehicle Sheets
18 Inserts
3 Tag Sheets
4 Topper Sheets
18 Envelopes
12 Quick Cards
2 Projects