Cards For Men Compendium Collection USB Key
Cards For Men Compendium Collection USB Key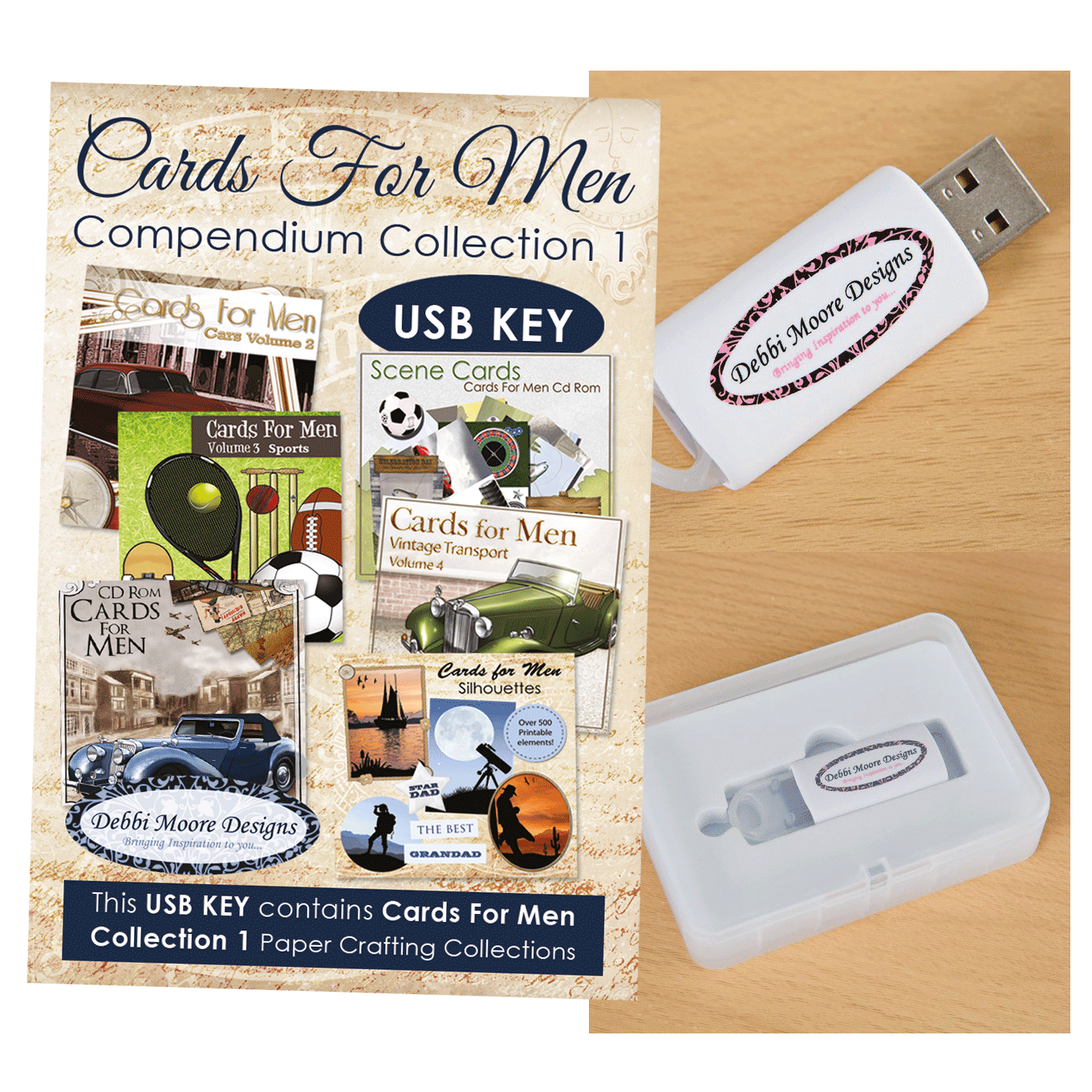 This kit is full of our new beautiful Cards for Men images.
There are over 3550 elements for you to print over and over again.This fabulous new USB key covers the a variety of designs, from papercrafting options, such as design sheets, toppers, decoupage, backing papers, to even a dimensional cards. Great fun for greetings cards & gives a new dimension to your crafting projects that can be enjoyed by beginners or advanced crafters.
An easy to use program that is more than suitable for people who are introducing themselves to computer aided craft design for the first time. Debbi Moore Designs range of CDs can work on any computer as long as its not older than 8 years old. The range of Debbi Moore cds is an awarded winning system voted as one of the best in the UK.
Full instructions are included
Contents:
Cards for Men Vol 1:
36 Design Sheets
36 Backing Papers
20 Decoupage Sheets
20 Pyramid Magic Sheets
6 Vehicle Sheets
18 Inserts
3 Tag Sheets
4 Topper Sheets
18 Envelopes
12 Quick Cards
2 Projects
Over 600 printable elements
Cards for Men Vol 2:
36 design sheets
54 backing papers
24 decoupage sheets
30 pyramid magic sheets
18 vehicle sheets
18 inserts
5 tags and toppers sheets
4 scene sheets
18 envelopes
12 large boxes
18 quick cards
5 project/template sheets
Over 800 printable elements
Cards for Men Vol 3:
36 design sheets
60 backing papers
30 pyramid magic sheets
18 envelopes
18 inserts
18 quick cards
6 scene sheets
21 square boxes
4 tag sheets
8 topper and embellishment sheets
4 projects
2 templates
Over 800 printable elements
Cards for Men Vol 4:
15 – decoupage sheets
36 – design sheets
18 – envelopes
18 – inserts
52 – backing papers
18 – pyramid magic sheets
18 – quick cards
12 – square boxes
5 – tags and toppers sheets
4 – projects
1 – template
Over 600 printable elements
Cards for Men Vol 5:
11 – design sheets
21 – backing papers
6 – scene cards
6 – box envelopes
3 – ribbon strip sheets
33 – inserts
9 – scenes
8 – sentiment sheets
6 – topper sheets
7 – templates 3 - projects
Over 500 printable elements
Scene Cards for Men CD:
12 – box envelopes
6 – cut up sheets
13 – backing papers
12 – scene cards
2 – templates
Project and template
Over 250 printable elements
Minimum System Requirements for USB:
PC running Windows XP/Vista/Windows 7/8/10
Mac or Linux
Adobe Acrobat Reader 10
Availability:
Out Of Stock