Christmas Compendium USB Key
Christmas Compendium USB Key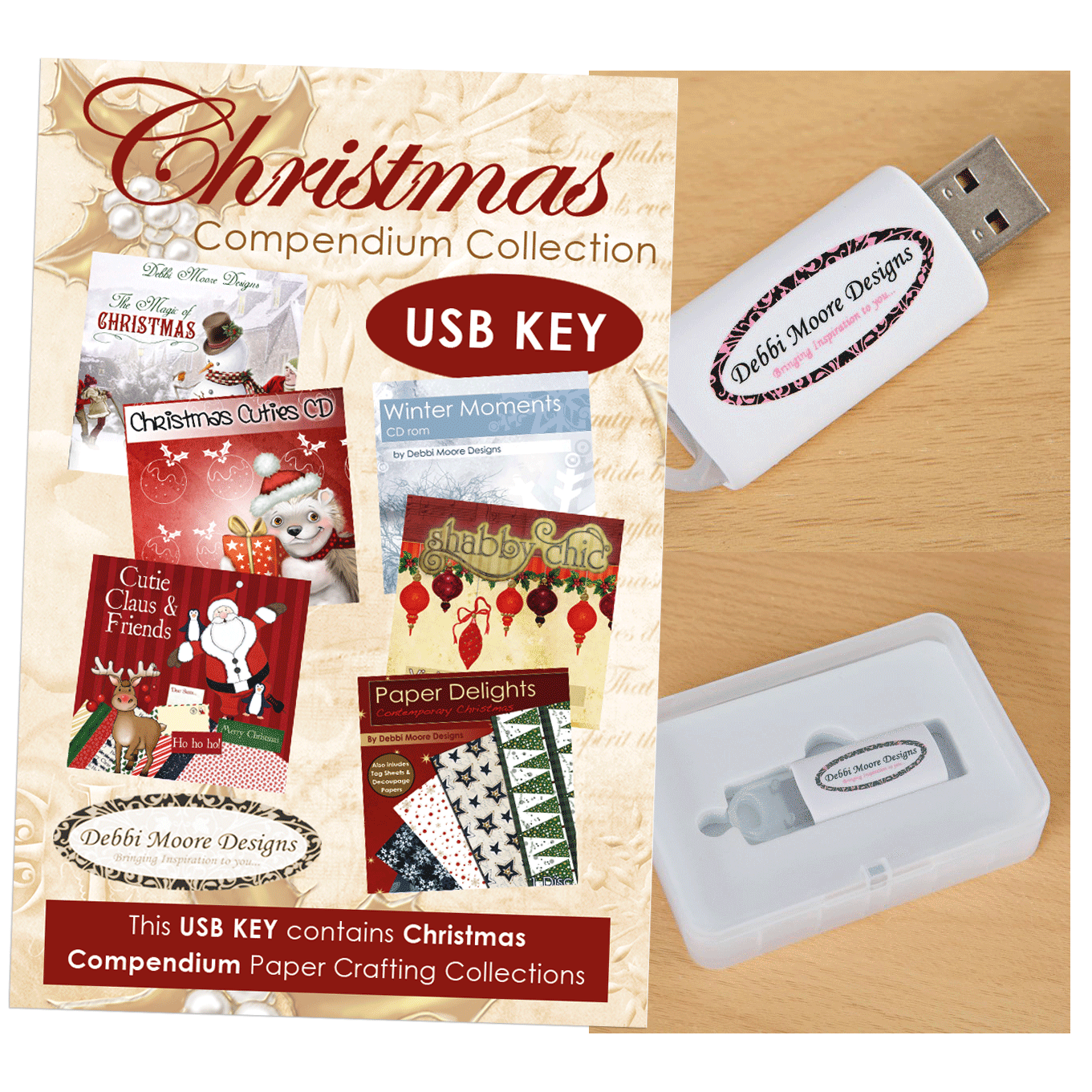 The Debbi Moore Christmas Compendium USB Key contains six different collections that cover an assortment of sheets, from decoupage design sheets, backing papers, quick cards, inserts, envelopes, one step cards, embellishments, boxes, bags, projects and much, much more.
The USB key contains over 3800 printable elements, great fun for greetings cards and gives a new dimension to your crafting projects that can be enjoyed by beginners or advanced crafters.
To use the USB key, simply insert it into your computer, press 'Open' then double click 'Index' (if using a Mac) or 'Start' (if using a PC). This will run the front interface with the different collections in it. You can then find the section you like, open in an Adobe Reader format, and print to your heart's desire!
Contents:
Christmas Cuties
24 design sheets
42 backing papers
20 decoupage sheets
20 pyramid magic sheets
6 character sheets
18 inserts
4 tag sheets
2 topper sheets
6 pillow boxes
5 projects
Shabby Chic Christmas
65 – Backing papers
21 – Pyramid Magic sheets
14 – Decoupage sheets
30 – Design sheets
6 – Matt & Layering papers
9 – Tags and sentiment sheets
7 Topper sheets
7 Ribbon sheets
10 – Alphabet sheets
12 – Christmas bunting sheets
6 – Christmas Corner sheets
21 – Envelopes
5 – Extras sheets
21 – Inserts
20 – Large Boxes
24 – Mini bags
20 – Pillow Boxes
18 – Quick Cards
18 – Square boxes
24 – Writing Papers
The Magic of Christmas Collection
30 design sheets
65 backing papers
4 scenes
19 Embellishment sheets
6 Card Fronts
6 digi-stamp sheets
19 envelopes
21 pyramid magic sheets
14 character sheets
18 decoupage sheets
18 inserts
12 tag sheets
6 projects
Winter Moments
26 design sheets
83 backing papers
4 Topper sheets
10 scenes
5 Embellishment sheets
7 Alphabet Sheets
8 corner sheets
12 Square boxes
10 pyramid magic sheets
2 silhouette sheets
18 inserts
6 tag sheets
6 projects
Cutie Claus
20 design sheets
28 backing papers
12 Decoupage Sheets
24 Envelopes
4 card fronts
16 Minibags
8 Embellishment sheets
16 Pillowboxes
12 Large boxes
12 pyramid magic sheets
4 Templates
24 inserts
6 tags and toppers sheets
3 projects
Contemporary Christmas
84 backing papers
84 coordinating backing papers
6 Decoupage Sheets
17 Tags and Extra sheets
Minimum System Requirements for USB:
PC running Windows XP/Vista/Windows 7/8/10
Mac or Linux
Adobe Acrobat Reader 10
Availability:
Out Of Stock