Christmas Divas Mini USB Key
Christmas Divas Mini USB Key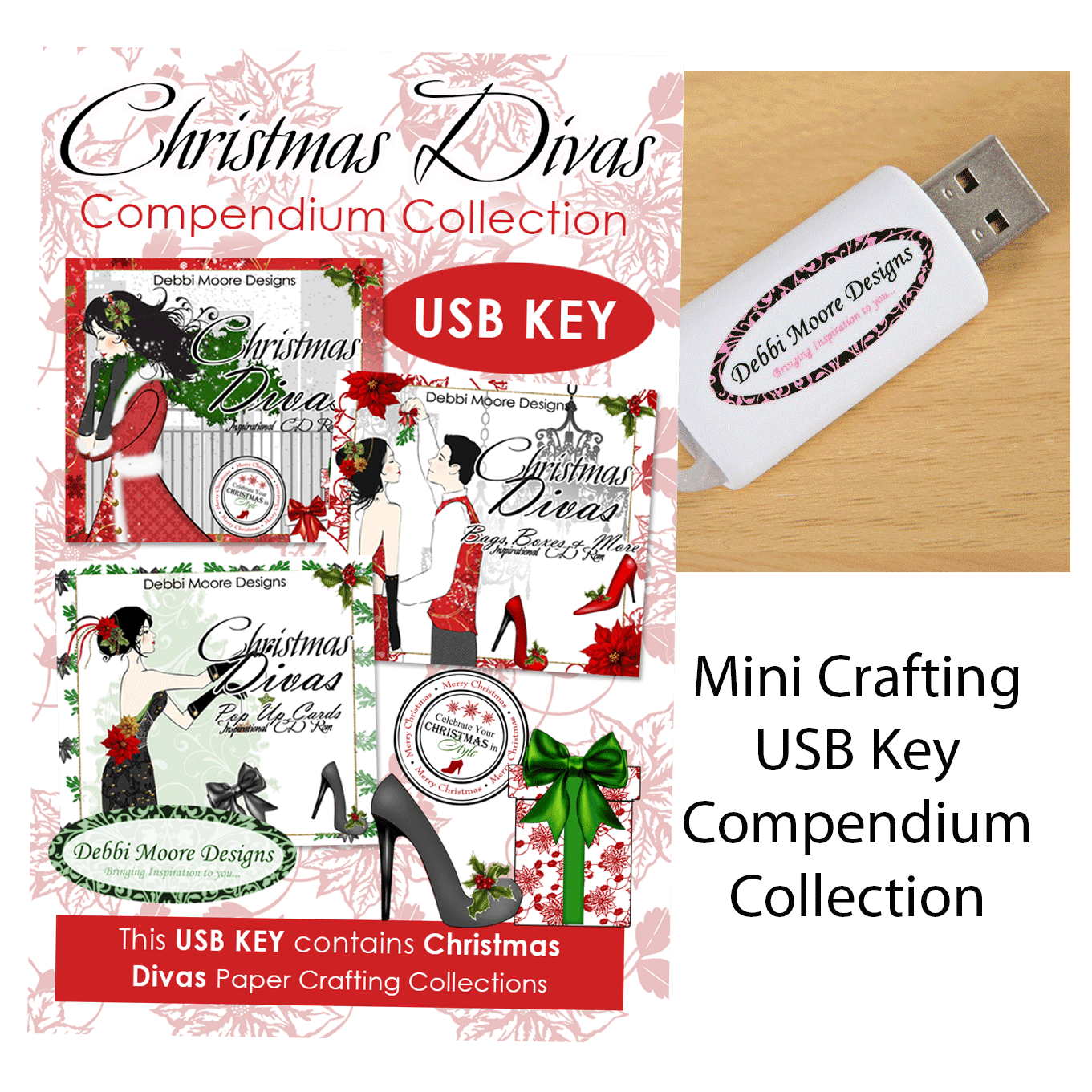 New to Debbi Moore's range of creative crafting products, this stunning Christmas Divas Mini USB Collection is packed with over 1500 printable elements from 3 different card collections all on one handy digital stick, giving you access to fantastic elements to meet all your crafting needs!
This exciting and innovative product covers an assortment of elements, such as design sheets, envelopes, to even a dimensional options that covers a variety of 3D cards and boxes. Collections featured on this USB includes Christmas Divas Paper Crafting Inspirational, Christmas Divas Bags & Boxes and Christmas Divas Pop Up Cards.
The USB is easy to use and carries Debbi Moore's easy to use CD program that is perfect for people who are introducing themselves to computer aided craft design.
Simply insert the USB key into your computer and the welcome screen will pop up. You can then find the section you like, open in an adobe reader format and print to your heart's desire.
Contents:
Christmas Divas Paper Crafting Inspirational Collection
36 – design sheets
42 – backing papers
18 – decoupage sheets
18 – pyramid magic sheets
18 – inserts
18 – quick cards
5 – tag and topper sheets
7 – embellishment sheets
3 – videos
Over 900 printable elements
Christmas Divas Bags & Boxes Collection
12 – hexagon boxes
15 – jewellery box
15 – large boxes
15 – square boxes
15 - mini bags
15 - pillow boxes
15 - wine bags
3 – embellishment sheets
12 – envelopes
46 – invite sheets
9 - projects
4 - videos
Over 300 printable elements
Christmas Divas Pop Up Cards Collection
6 – backing papers
6 – A5 box envelopes
2 – extras sheets
9 – designs
3 – pop up shops
Over 350 printable elements
Minimum System Requirements for USB:
PC running Windows XP/Vista/Windows 7/8/10
Mac or Linux
Adobe Acrobat Reader 10
Availability:
Out Of Stock