Flutterby Delights Mini USB Key
Flutterby Delights Mini USB Key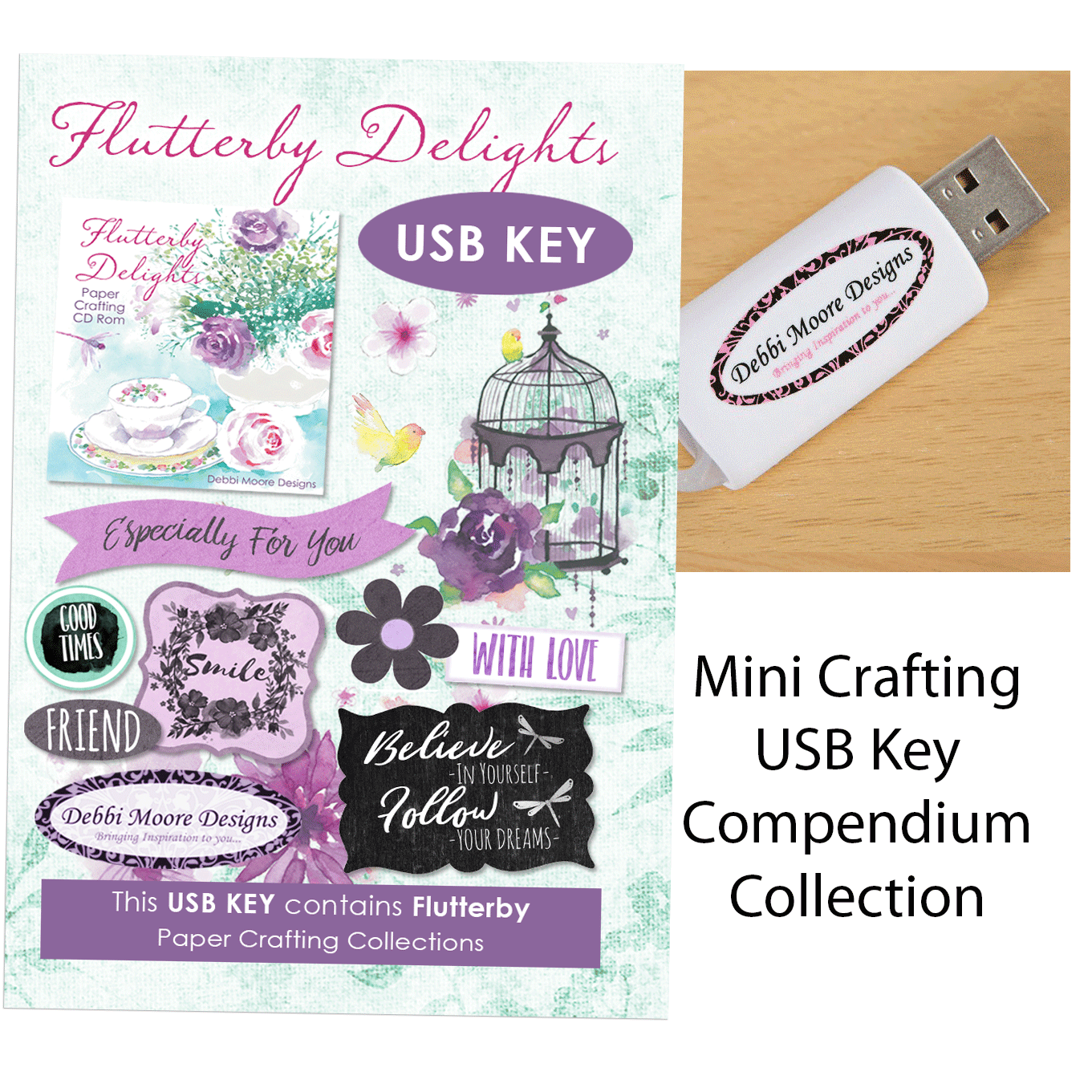 The Debbi Moore Flutterby Mini USB Key contains three different collections: Fluttberby Delights, Lizzie Lu Papercrafting, and Vintage Floral Essentials.
Each collection contains an assortment of elements, including design sheets, backing papers, quick cards, inserts, envelopes, toppers, embellishments, and much more.
Altogether, you'll receive over 4000 fabulously floral and butterfly inspired printable elements.
Contents:
Debbi Moore Flutterby Mini USB Key
Fluttberby Delights:
design sheets: 30 sheets 726 elements
papers: 46 sheets 46 elements
bows: 7 sheets 28 elements
embellishments: 12 sheets 390 elements
envelopes: 36 sheets 36 elements
inserts:18 sheets 18 elements
sentiments: 7 sheets 448 elements
tags: 7 sheets 125 elements
toppers: 13 sheets 98 elements
mini bags: 7 sheets 35 elements
square boxes:14 sheets 63 elements
large boxes: 14 sheets 7 elements
mini pillowboxes:7 sheets 14 elements
Printable Elements:2034
Lizzie Lu Papercrafting
36 – design sheets
48 – backing papers
36 – matt papers
12 – decoupage sheets
20 – pyramid magic sheets
18 – inserts
18 – quick cards
12 – tag and sentiment sheets
10 – embellishment sheets
10 – frames and topper sheets
3 – videos
Over 1300 printable elements
Vintage Floral Essentials
bows: 5 sheets 20 elements
design sheets: 30 sheets 520 elements
digi stamps: 5 sheets 17 elements
embellishments: 5 sheets 225 elements
envelopes: 36 sheets 42 elements
inserts: 15 sheets 15 elements
numbers: 10 sheets 220 elements
tags: 5 sheets 85 elements
papers: 50 sheets 50 elements
toppers: 10 sheets 70 elements
sentiment tabs: 5 sheets 210 elements
Printable Elements : 1474 elements
Minimum System Requirements for USB:
PC running Windows XP/Vista/Windows 7/8/10
Mac or Linux
Adobe Acrobat Reader 10