Steam Punk Compendium USB Key
Steam Punk Compendium USB Key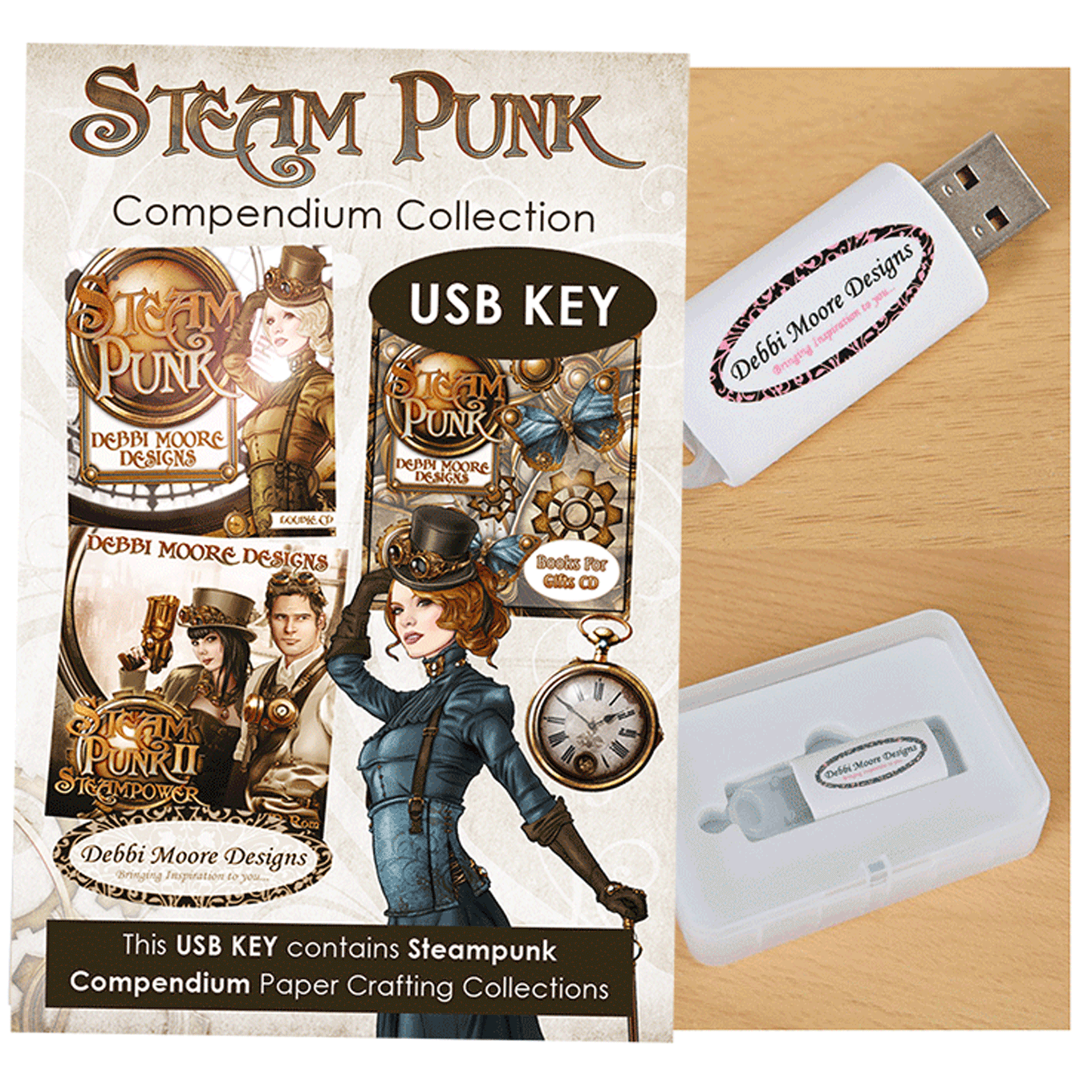 SteamPunk Collections
Imagine 4 fantastic Steam Punk themed sections just on one handy USB! This Debbi Moore Steam Punk Volume 1 and Volume 2 USB Key features an assortment of sheets from decoupage design sheets, backing papers, quick cards, inserts, envelopes, one step cards, embellishments, boxes, bags, projects and even books for gift options.
The joys of having a selection of collections on one USB is that you have the freedom to browse through at your convenience and pick out your favourite designs and mix and match to provide wonderful creations.
This USB key contains over 3100 printable elements, great for cardmaking and other papercrafts. It also gives a new dimension to your crafting projects that can be enjoyed by beginners or advanced crafters!
Featuring an easy to use program, this USB is suitable for all crafters especially those who are new to computer aided craft items!
Contents:
Steam Punk Inspirational
Design sheets – 35
Backing papers – 44
Pyramid magic sheets – 16
Decoupage sheets – 16
Characters -19
Topper sheets – 9
Tags/sentiments - 13
Scenes - 8
Inserts – 18
Cardfronts – 6
Envelopes – 18
Embellishments/cut ups - 7
Video projects – 3
Over 1200 printable elements
Steampunk
48 – design sheets
64 – backing papers
24 – decoupage sheets
24 – pyramid magic sheets
24 – character sheets
18 – inserts
5 – topper sheets
14 – scene sheets
4 – tag sheets
36 – envelopes
23 – embellishment sheets
18 – quick cards
6 – digi stamp sheets
10 - projects
3 – templates
1100 printable elements
Steampunk Book for Gifts
4 Birthday Books
4 Recipe Books
4 Memento Books
4 Tag Books
4 Shopping List Books
4 Envelope Cards
4 Diary Books
4 Secret Box Books
4 Square Box Books
4 Easel Draws
4 Jewellery Boxes
16 Papers
11 Projects
Total Printable elements: 400
Time Flies Book for Gifts
3 birthday book
3 Diaries
3 Easel Draw Set
3 Momento Book
3 Recipe Book
3 Tag Book
3 Square Box Book
3 Jewellery Box
3 Shopping List Book
3 Envelope Card
3 Secret Box Book
11 projects
Printable elements - 400
Minimum System Requirements for USB:
PC running Windows XP/Vista/Windows 7/8/10
Mac or Linux
Adobe Acrobat Reader 10
Availability:
Out Of Stock