Inspirational Craft Box - Santa Claus
Inspirational Craft Box - Santa Claus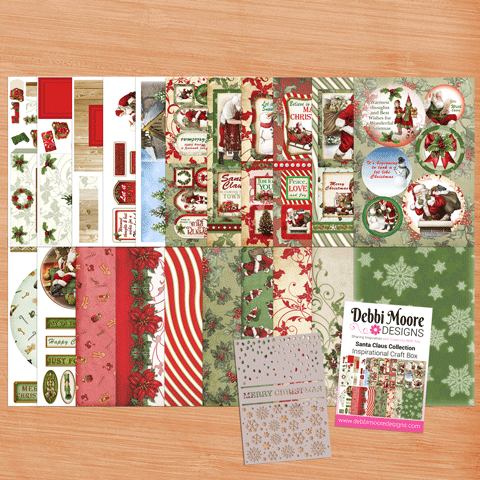 A great selection of Santa themed materials to make some fabulous dimensional cards.
Gorgeous crafting sheets with our signature artwork, a varied card selection, a metre of metallic ribbon and an embossing stencil complete our beautiful Inspirational craft box.
Contents:
1 x Embossing stencil, A5 'Merry Christmas' with snowflake pattern (DMESS090) 
21 x Crafting sheets
4 x 6" square card blanks and envelopes,
4 x 6" square kraft card blanks and envelopes
6 x A5 card blanks and envelopes
1 x metre of metallic ribbon
At the end of the booklet you will find a code, that will enable you to download all your crafting papers from www.debbimooredesigns.com therefore enabling you to create these fabulous projects again and again.
Code:
IWCK236, DMESS090 (Plus Download)