Party Penguins 2 Compendium USB Key FB2598
Party Penguins 2 Compendium USB Key FB2598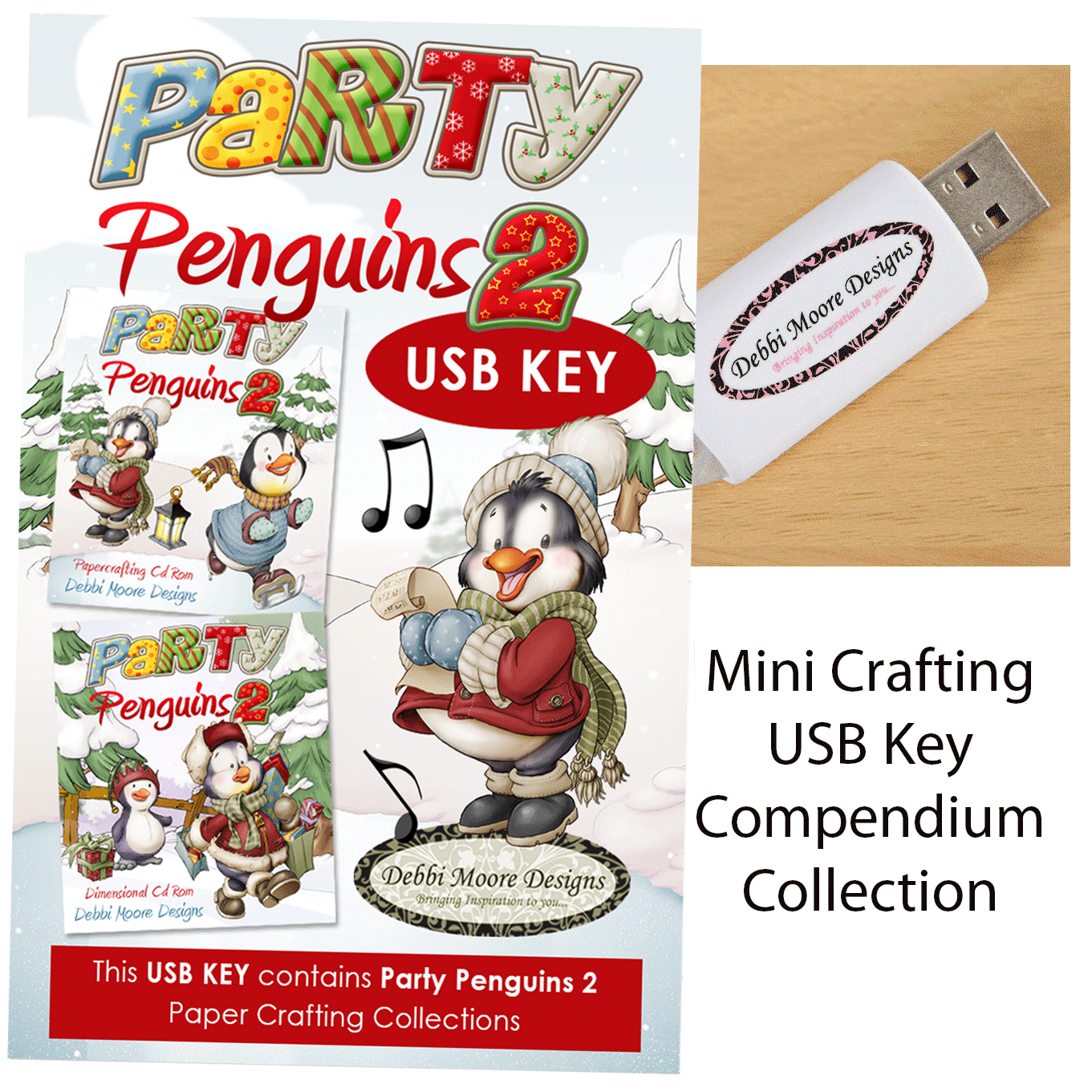 Christmas Collections
New to Debbi Moore's range of creative crafting products, this Party Penguins Mini USB Key is packed with over 2680 printable elements, covering a variety of designs, from papercrafting options, such as design sheets, toppers, decoupage, backing papers, to even a dimensional option that covers a variety of 3D cards and boxes.
All designs are hand drawn for totally unique and stylish results. You can even mix and match themes to create an array of combinations.
Simply insert the USB key into your computer and the welcome screen will pop up. You can then find the section you like, open in an adobe reader format and print to your heart's desire.
Contents:
1 x Party Penguins Mini USB: 
Design Sheets: 36 sheets (360 elements)
Papers: 36 sheets (36 elements)
Character sheets: 25 sheets (54 elements)
Digi Stamps: 5 sheets (18 elements)
Scenes: 12 sheets (12 elements)
Decoupage: 18 sheets (24 elements)
Embellishments: 18 sheets (198 elements)
Card Fronts: 36 sheets (156/96/120 elements)
Envelopes: 36 sheets (12/48/12 elements)
Inserts: 36 sheets (12/12/12 elements)
Sentiments: 12 sheets (348 elements)
Total: 270 sheets (1530 elements) 
Party Penguins Dimensional Breakdown: 
Mini Rocker Cards: 24 sheets (246 elements)
Shaped Cards: 24 sheets (186 elements)
Decoupage Cards: 12 sheets (66 elements)
Slider Cards: 12 sheets (108 elements)
Side Scene Cards: 24 sheets - makes 12 cards (162 elements)
Mini Christmas Cards: 18 sheets (60 elements)
Cube Boxes: 54 sheets - makes 18 boxes (198 elements)
Mini Bags: 18 sheets (18 elements)
Pillow Boxes: 36 sheets (18 elements)
Mini Pillow Boxes: 18 sheets (18 elements)
Square Boxes: 36 sheets (18 elements)
Gift Tags: 6 sheets (54 elements)
Total: 174 sheets (1152 elements) 
Minimum System Requirements for USB: 
PC running Windows XP/Vista/Windows 7/8/10/11
Mac or Linux
Adobe Acrobat Reader 10