Santa Claus Compendium USB Key (HH028)
Santa Claus Compendium USB Key (HH028)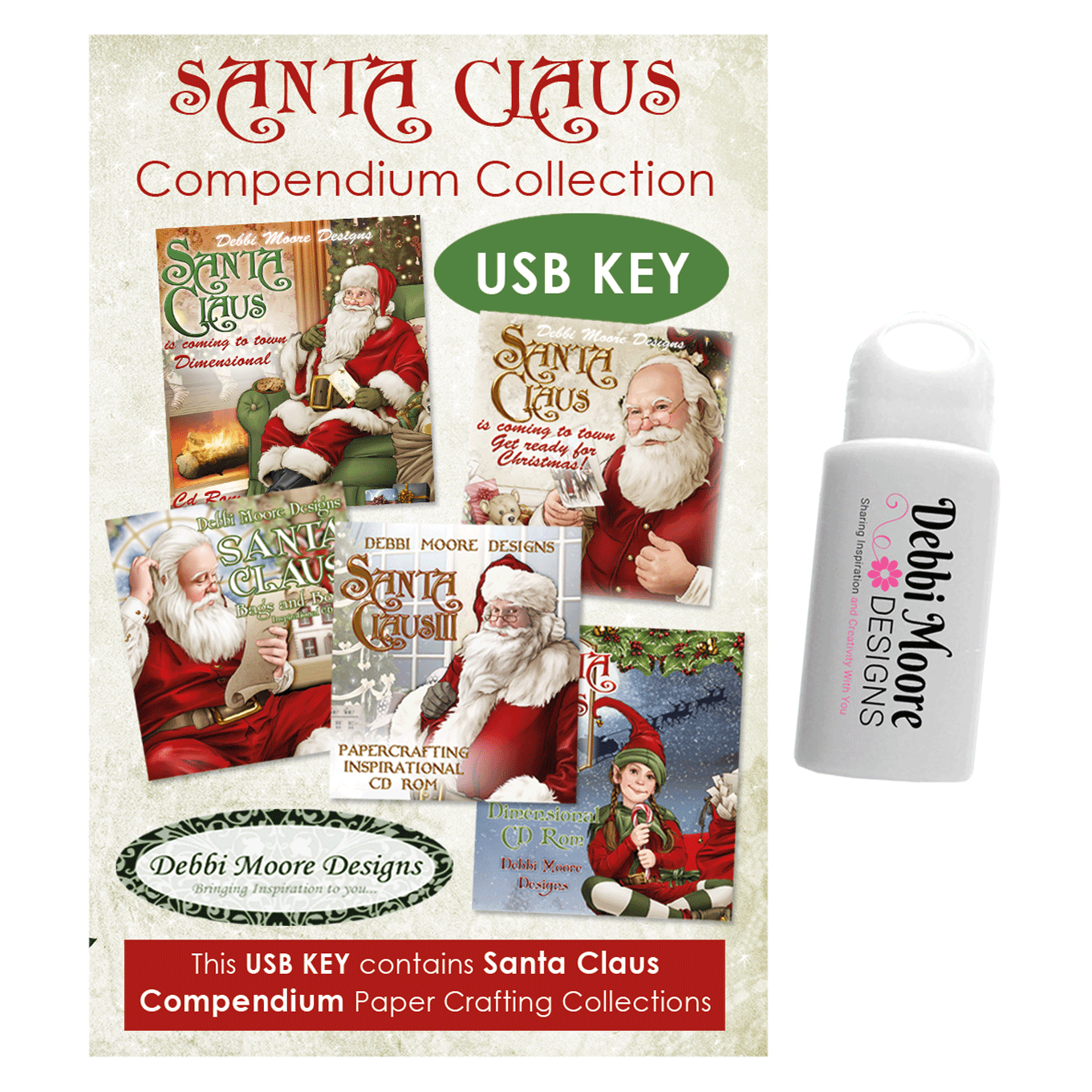 Packed with over 3650 printable elements featuring festive themed designs from Debbi Moore's new Santa Claus collection.
New to Debbi Moore's range of creative crafting products, this stunning Santa Claus USB Key Collection is packed with over 3650 printable elements from various sections all on one handy digital stick, giving you access to fantastic elements to meet all your crafting needs.
This exciting and innovative product features 6 collection which all cover an assortment of sheets from decoupage design sheets, backing papers, quick cards, inserts, envelopes, one step cards, embellishments, boxes, bags, projects and much, much more.
All designs are hand drawn for totally unique and stylish results. You can even mix and match themes to create an array of combinations.
The USB is easy to use and carries Debbi Moore's easy to use digital program that is more than suitable for people who are introducing themselves to computer aided craft design for the first time.
Simply insert the USB key into your computer and the welcome screen will pop up. You can then find the section you like, open in an adobe reader format and print to your heart's desire.
Minimum System Requirements for CD:
PC running Windows XP/Vista/Windows 7/8/10
Mac or Linux
Adobe Acrobat Reader 10
Contents: 
Santa Claus Is Coming To Town Dimensional: 
Side Scene Cards: 10 Sheets = 5 Cards (71 Elements)
Shaped Cards: 24 Sheets (124 Elements)
Rocker Cards: 16 Sheets ( 128 Elements)
Large Boxes: 48 Sheets (24 Boxes)
Mini Bags: 24 Sheets (24 Bags)
Mini Pillow Boxes: 24 Sheets (24 Boxes)
Pillow Boxes: 48 Sheets (24 Boxes)
Square Boxes: 48 Sheets (24 Boxes)
Wine Bags: 24 Sheets (8 Wine Bags)
Bracelet Boxes: 8 Sheets (8 Boxes)
Gift Tags: 8 Sheets (72 Sheets)
Embellishments (Bows): 4 Sheets (16 Elements)
Total: 547 Elements 
Santa Claus Is Coming To Town Get Ready For Christmas: 
Advent Calendar: 16 Elements 4 Sheets
Baubles: 66 Elements 12 Sheets
Coasters & Placemats: 24 Elements 9 Sheets
Napkin Holders:36 Elements 3 Sheets
Crackers & Toppers: 72 Elements 6 Sheets
Cupcakebox:48 Elements 6 Sheets
Jam Labels: 63 Elements 6 Sheets
Kitchen Organiser: 18 Elements 9 Sheets
Letter To Santa:13 Elements 5 Sheets
Memento Book: 93 Elements 12 Sheets
Minicards & Box: 46 Elements 12 Sheets
Place Names:18 Elements 3 Sheets
Recipe Book: 6 Elements 6 Sheets
Present Labels: 120 Elements 3 Sheets
Canning Labels: 66 Elements 3 Sheets
Total Elements: 651 
Santa Claus Paper Crafting Inspirational Contents:
43 – Design Sheets
43 – Backing Papers
47 – Decoupage Sheets
14 – Pyramid Magic Sheets
44 – Character/Digi Stamp Sheets
18 – Inserts
18 – Quick Cards
3 – Tag And Topper Sheets
18 – Embellishment Sheets
15 – Scene Sheets
3 – Videos
Over 800 Printable Elements
Santa Claus Vol 1 2 Collection Santa Claus Gifts & Boxes
16 – Hexagon Boxes
6 – Jewellery Box
16 – Invites
16 – Envelopes
16 – Large Square Box
20 – A4 Box
16 – Square Boxes
16 - Mini Bags
16 - Pillow Boxes
12 - Wine Bags
2 - Tags And Embellishment Sheets
4 - Videos Over 270 Printable Elements
Santa Claus Papercrafting Inspirational 
30 – Decoupage Design Sheets
48 – Backing Papers
30 – Decoupage Sheets
48 – Inserts
48 – Envelopes
12 – Card Fronts
12 – Mini Cards
25 – Embellishment Sheets
3 Embedded Videos
Over 1315 Printable Elements 
Santa Claus Dimensional 
3 – Scene Cards
3 – Grotto Cards
3 – Rocker Cards
3 – Slider Cards
3 – Grotto Envelopes
3 – Rocker Envelopes
3 – Square Boxes
3 – Large Boxes Projects
Over 200 Printable Elements